Wow today it's been One year since DaddyZilla left for his deployment. Whats weird is that it seems like he's been gone forever but at the same time it doesn't feel like a year. He's still got several months left on his deployment but it is coming up soon. I can't wait til he gets home though. I know that Zilla and I miss him like crazy and it will be good to have him home. I sure could use the help with the crazy toddler in my house, the house itself and the dog!
It has been one crazy year and I want to give props to all single moms out there (including my own awesome mom) because this gig isn't something to sneeze at! It's been hard but it's almost over and Daddy will be home shortly!! I know that Zilla will be very excited to have him home! Oh and so will I!!!
This is Zilla and DaddyZilla the day he left!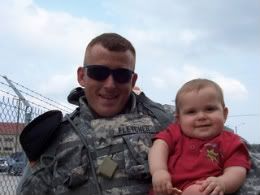 Zilla Now: