Okay sorry for the delay but I've been kinda lazy on downloading pictures. I know your all totally suprised that I would be lazy...LOL. Anyway here are some pictures from our Missouri trip.
Being a gentleman holding the door open for Grandma
Checking out some snake eggs at the zoo
At the St Louis Zoo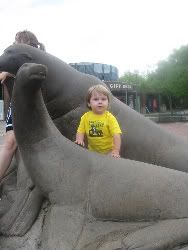 This is what Zilla did all during the graduation - walk around - no sitting around for little turd!