Okay for our second day of the trip we decided to go to Hollywood Studios (I still call it MGM though lol). It was tons of fun and I really liked all the cool things they have put in there. I do have to say that the actual layout of the park SUCKS because it's not all interconnected the way the others are you have to walk back past stuff to get over to another area. Anyway we tried out the Muppet Vision 3D cause DZ wanted to do that but it didn't work out very well. Once we got seated, as far away from everyone else and near the exit doors, Zilla decided that the theater was WAY too loud and too dark - which it was - and I had to take him out while DZ finished up. It's all good though cause the two of us played Zillas fav game of "more runnin' mama" LOL. After that we waited in line to take pictures with the life sized Tow Mater and Lighting McQueen. We thought that Zilla would love this since he's all but obsessed with the movie and he probably would have been over the moon if the music they were playing wasn't blaring and the cars weren't making loud revving noises. As it is thought I'm pretty positive that Zilla have some kind of noise sensitivity issues so he plugged his ears and wasn't really happy until he could just watch them from afar. He loved it when he was far enough away and we probably went back 'just to look from a distance' about 4 times that day LOL. We also did the Toy Story Mania ride and it was fun - Zilla covered his ears the whole time - I never realized just how friggin loud the Disney music is until this trip and they have it blaring from speakers everywhere - but when we were done with the arcade style ride Zilla said it was "real fun" and it was. Other notable things were the Playhouse Disney Live show - I was worried about this cause his noise issues usually include almost all forms of singing but towards the end he actually got up and was dancing along so I guess his toddler side won out there and we all had fun but I don't recommend sitting right up at the front cause it's hard to see the stage like that. Oh if you like the Star Wars stuff I would totally recommend the gift shop there at MGM cause it's the.bomb. I didn't ride the ride for it (DZ did and wasn't impressed so I decided not to bother) but the gift shop has A TON of cool stuff I mean I'm not even a star wars fan and I found stuff I wanted to buy! I also rode the Tower of Terror and the Aerosmith Rock 'n' Roller Coaster they were both pretty fun rides. We (meaning Zilla cause DZ and I packed our lunch) ate at the Pizza Planet for lunch and their pizza and prices were pretty good. For dinner we ate at the Backlot express and considering that it's considered "counter service" by Disney aka cheap it was really good - I had the Turkey Melt thing and it was pretty awesome for under $10. I do totally recommend watching the 3pm daily Block Party Bash parade! The parade was great they really went all out with it - it's a little more interactive than the parades at Magic Kingdom. They stop the parade every block or so along the route and have a "bash" with you for a good while before moving on. they had dancers and these big things that folded out to trampolines with people doing all kinds of cool jumping moves as well as they throw balls out to the crowd - it was really a lot of fun.
That park didn't take us all day either and we were pretty much ready to leave by 3:30pm but we stuck around looking at shops and avoiding the inevitable Florida rain - they should have named it The Afternoon Rain showers are a Sure Bet Sunshine State LMAO - because Zilla fell asleep in the stroller. Anyway here are some pictures of our Day: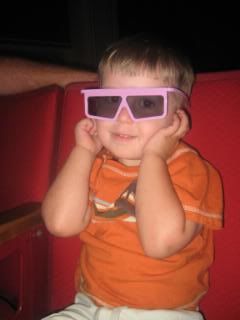 Zilla @ Muppet Vision 3D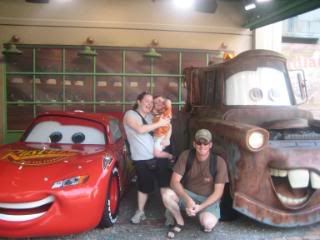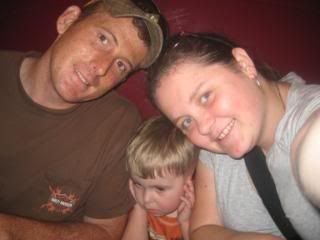 Us on the Toy Story Ride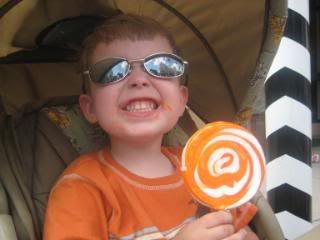 This was the sucker that saved us from a meltdown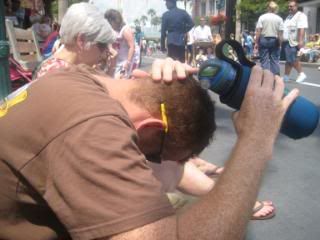 DZ using the Misty Mate thing I bought - that thing was awesome!