**Sorry I thought I had scheduled this to post but I seemed to have just put it as a draft so it's a little late**
On our last full day of vacation we decided to forgo the parks and instead relax at the campgrounds and visit Downtown Disney. Here are some of the fun happenings from that day:
One of the many stores we hang out at was the Lego Store at Downtown Disney. That store had SOOOOOOO much awesome Lego stuff it was unbelievable. They had sets and then there was the wall o' legos where you could buy loose Lego pieces to construct whatever awesome masterpiece you wanted. There were displays of all kinds already set up inside and then huge life-size ones done outside as well. As if that weren't enough the Lego Store also had a play area set up for the littler kids and then a half dozen tables set up with legos for the kids to play and have fun with - Zilla had a blast there.
Petting the Lego Families dogs!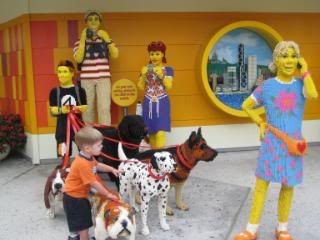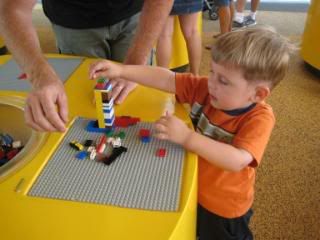 OMG this place smelled like Heaven!! I walked in and wanted to moan with pleasure - I don't think there is a woman alive who could resist . I got DZ and myself a milkshake with dark chocolate covered peanut butter cups mixed in - swoon. They were a little pricey but that's what vacations are for right?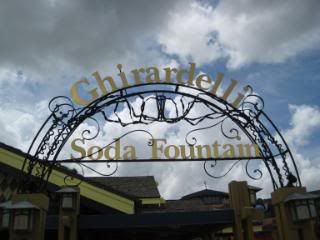 They have these play areas in the entrance to Downtown Disney that shoot up water in time to some Disney tune and Zilla thought this was just the best! He played in that thing for a little over an hour! He kept bending down and trying to lick the water - it was so funny and yet so gross lol. I'd venture to say that he had a better time playing in that water than he did at all parks - we had to literally drag his soaked self away from it kicking and screaming! Did I bring a extra set of clothes? No so he ended up riding back to the resort in his hugely overpriced souvenir Disney shirt and his pull-ups LOL.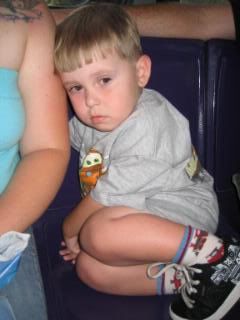 Playing in the sand at the campground marina area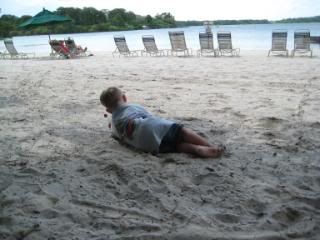 On the swings at the playground near our camper