My little bro graduated last week and Zilla and I were lucky enough to go see. Well actually I mainly watched the whole thing on the TV screens from the hallway because a certain two year old couldn't be bothered to go sit in the Arena. I did manage to sneak in and see Bran walk across the stage so that's good at least. It didn't take nearly as long as I feared it would because they only had a little over 600 kids walking (my own graduation was close to 1100 - so I was kinda worried). I do have to say that it was pretty much a pleasant experience except that the valedictorian's speech was pretty dang depressing. I'm
hoping
that he didn't really mean for it to come out that way but he talked about how much he hated himself and that the world meant nothing for almost the whole long speech only swaying it towards something
normal
in the last minute or so - it kinda made you want to go slice your wrists - not very good. Oh well guess he needed to talk and not much anyone could do but listen. I think school administrators should be allowed to view the speeches ahead of time! Besides that really uncomfortable point it wasn't too bad since our last name is in the beginning. We then went out to lunch and Chili's (yum) and then Zilla spent some time with Grandpa and Holly while I went shopping for some new running shoes. Here are the pics!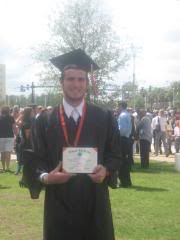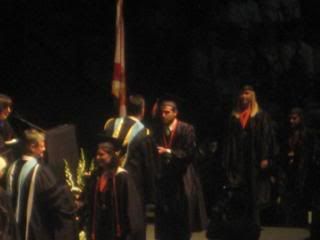 Bran with our super Proud Dad!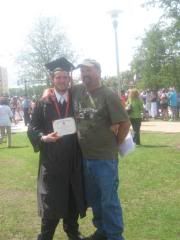 Bran with his girlfriend Brittney - she's really nice and isn't her skirt just too cute?