So happy about yesterday it was just awesome. I've been posting stuff on craigslist for the last two weeks to try and get some things gone before the big move since we've had crap weather so I couldn't do a yard sale. I can't just donate the stuff I had set aside for my yard sale mainly because well even if I only made $20 well thats $20 I didn't have before and especially now I can't afford to lose out on any money so I've been putting the bigger stuff on craigslist and will just pack up the rest to take it down to the sunshine state and sell it there. Anyway the reason yesterday was awesome was because I managed to sell 3 pretty big items that I had listed and then I sold a bunch of Zilla's old clothes the day before. Not even a fraction of what I paid out for the stuff but can't complain too much. Still have WAY to much stuff I don't actually want to pack and move but oh well maybe it'll sell better down there anyway!
Going back to the dermatologist this morning to have her look at my lip to see if that crap helped any. I will have to update you once I get back or maybe tomorrow who knows. Here are the shots of it so far: -try not to look up my nose kay? thanks
Two days in I think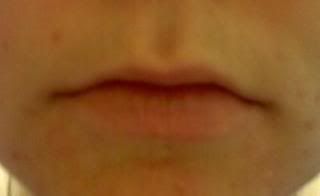 One week mark - hurting but not that bad
Two Weeks and two days - the end of the meds - yes thats the HUGE blister on my lips - very very painful
Four week mark - no more blister (Thank the Lord) but it's all cracked, bleeding and scabbing still and it itches like no ones business!! Healing hurts people!!