Um I mean fence has been put up by DZ and it looks WAY better than I had hoped for. I thought maybe that we would look totally redneck read: fit in because we didn't use chain link or the wood fencing panels. We ended up going to Tractor Supply and getting hog pen panels and putting those up. Yep sounds pretty redneck but it looks pretty good IMO and it does the job. Here are some shots of the boy and dog in the back inside the new pen um fence:
This one is of Zilla playing in a couple of the nine new "beaches" we have now! He made sure to visit each one on that first day HAHA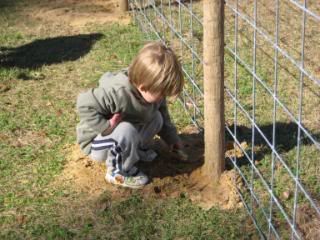 Trying to be a "good mom" and go along with our beach thing we have going on I decided to brave the garage (still not unpacked) to obtain the actual beach toys for Zilla to have at his "beach" see exhibits a and b: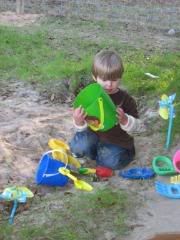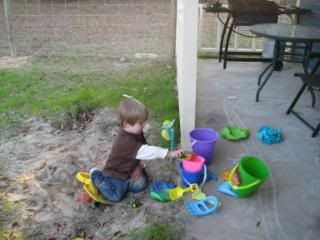 Little did I know that my niceness - thats the end of that for 2009 by the way - would come back to slap me. On my way out to give another toy to Zilla I find him on the OTHER SIDE OF THE FENCE!!!!!! Yep that little turd had climbed under the grill and through the porch railings and was free! At the sight of me though he climbed back in and promptly received his smack on the fanny. Well the nice people at Tractor Supply had accidentally given us ten hog panels instead of nine So.... I drug that 16 ft panel from one side of the house to the other - the kids in the passing school bus got a big laugh I'm sure- and rigged it up so he's really trapped now!! Here's my handy work: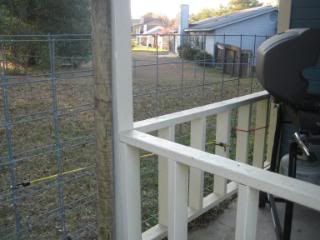 Yes those are bungee cords and yes I did manage to make one smack my leg while getting them situated! It will work for now until we figure something else out.