I took Zilla (DaddyZilla had to work - yuck) trick or treating with a whole bunch of friends and he had a good time! He was a Sheriff/Cowboy and boy did he look the part walking in those boots. Let's just say he looked like he
just
got off a bull...LOL. He has been having some booty issues (I'll get to that shortly) so that made it a little less fun than it could have been but he still had a great time. Our friends -all million of them- also had a great time and all the kids totally raked in the loot. Zilla actually walked the whole time in the boots - I thought for sure he'd want to take them off but nope he did really well and didn't even have one blister today! In the beginning he was a little bit not cool with the person actually coming to the door and giving out candy but he warmed up, for the last four houses, and got the hang of it. There were about 20 of us, including Zilla and I, that were making the rounds and I have to say that really made it much more fun! We had a cowboy, Indiana Jones, A Lego Mindstorm (totally cool), a genie, Darth Vader, Dale Earnhardt Jr, monster bride, Incredible character, Tinkerbell, and Thing 1 & Thing 2 - we were certainly a site to see HAHA. Here are some pictures of the fun!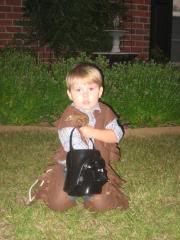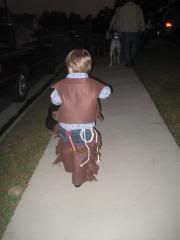 Thats our HUGE group!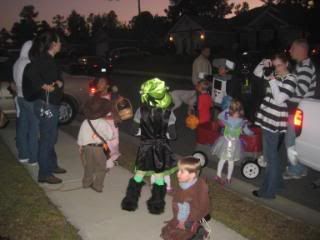 Zilla with his uncle and cousin who was Dale Jr.