As we were waiting very NOT patiently (since Zilla woke me up at 3am) this past Sat for the stinking Realtors to open up so we could look at houses we were driving around and we came across the craziest thing I've seen in awhile. In downtown Enterprise sits this little gem:
Yes you ARE seeing a working fountain in the
middle
of an intersection. Now here in Georgia we have some traffic circles (gosh I hate those) with things in the middle - we also have 'squares' BUT this my friends was NOT one of those. The intersection in question was just a regular intersection except that it had a fountain in it. Like it fell off the back of a truck on the road and they just left it there..lol. Small town weirdness I guess LMAO.
Dothan is home to the Peanut Festival and I have to say they are darn proud of peanuts around them there parts. I mean this is a HUGE deal there - so much so that they have life size (our size not theirs lol) replicas of peanuts all over the town. Here is the "Shopping Nut" in the middle of their Mall: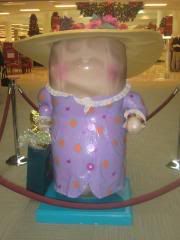 During our stay over the weekend we had the pleasure of experiencing the Army Lodging on post. The room was nice sized and contained a kitchenette type thing complete with plates and whatnot and two beds. They even had a playground, which Zilla totally got to enjoy, a decent breakfast and it was quite a bit cheaper than staying at a regular hotel. One would think that we would have enjoyed ourselves and had a lovely stay right? NO This lodging had some of the worst mattresses (I'm still not sure thats what they were) I have ever slept on in my life! I'm not even kidding that the floor would have felt the same. Lets put it this way, the last night we slept on the sleeper sofa and it was WAY better! I guess we got what we paid for there. Here are some pics of Zilla enjoying himself:
Picking and smelling the flowers
Playing in the leaves and pushing his train through the sand: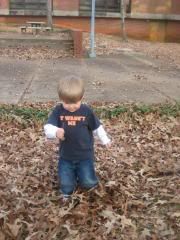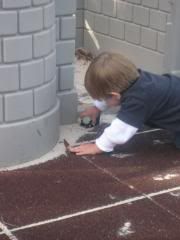 DZ and Zilla looking for his shoes under the bed (LOL - it was so funny cause he was copying DZ) and eating soap - yes he's odd - we know: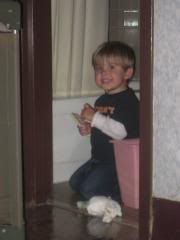 I also just
had
to stop and get a picture of this bench that was outside the Army Lodging. It was SOOOO cute and very clever to do the American Flag on the front and then the Army seal on the sides - plus why not have an excuse to take another picture of my super duper cute son right?