Yeah I don't think that Zilla realized that Potato Buds are actually for eating (after being prepared of course) and not for playing in.
The other day he was playing in his room, or so I thought, but come to find out DZ found him in the hallway and insisted I come to look. This is what I found: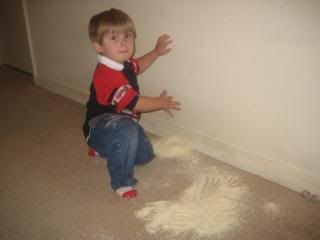 The WHOLE box of Potato Buds was dumped on the floor and he was just having a good old time playing in them. I swear that kid has some issues staying away from the boxes in the kitchen cabinet!