I think I might ammend Zillas middle name to Trouble. Anytime I turn my back the child is getting into something he shouldn't be. Here are two prime examples from this week:
He was supposed to be watching tv and I walk into the room to find him sitting in a box - with what WAS supposed to be in the box laying on the couch!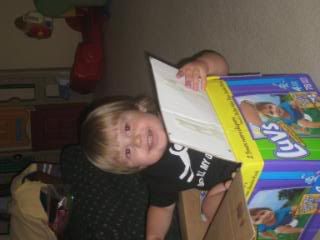 In this lovely heart stopping moment I walked into the kitchen to find my dare devil son sitting on top of the kitchen table trying to get something on the table. Why come get mommy to help when you can just climb up there yourself - who cares about the fact that we have tile in the dining room and you could fall and splatter your brains on the floor. Why don't toddlers think about this stuff? I guess thats why mommies are here.
Oh and YES i did go into the livingroom to grab the camera to get a pic before removing him from the table. It was a prime picture taking moment i couldn't pass it up. He wasn't actually going to fall.